The successful story of a professional passion!
"It starts in March 1996, with this special talent, with this sense of being able to transform vague ideas into a wonderful reality. The skill of combining extraordinary details into something very special, often into those deep, memorable experiences that let us break away from the gray everyday life into an enraptured world of thoughts...!"
It´s talking about turning everyday travel wishes into unforgettable dream holidays. Not just any dream trips. No. Just very personal, different, off the beaten track.
Personal.Terrific.Alternative. - P.T.A. ...!
---
March 1996: The starting signal is given...
What started small, quickly grew into a travel agency in great demand. From an initial specialization on the country of Greece, trips to all parts of the world soon developed due to the global travel wishes of the growing number of guests.
And in former responsible positions acquired, proven professional experience in the group travel business and impressive target area knowledge justified an outstanding expertise for the organization and execution of own group journeys.
Today, P.T.A. TOURS is certainly one of the largest and leading travel agencies in the field of organized hiking tours for hiking clubs, associations and worldwide umbrella organizations. The special thing is: we do not only bring the hikers of the countries to the worldwide events, we also show them on individual, planned discovery tours country and people and make them a little more familiar with the history, culture and tradition of host countries.
Over the decades, the travel theme "Travel for women in groups" has grown into another important brand, for and with women only. Our coordinated concept brings nature, hiking and culture-loving women together in community, but also grants the need for individuality the greatest possible space for a very personal time-out without any obligation. Many of our guests have been traveling with us for many years, and often new friendships develop from the shared experiences and the many inspiring conversations.
---
We are growing...
The demand for further, selected travel themes is increasing.
Encouraged by the sustainable recommendations of our guests and strengthened by a healthy, entrepreneurial development, over the years further travel focuses are added to the existing TravelThemes offer...
Cultural trips
City trips
Individual tours
Comfort hiking tours
Mountain hiking tours
In doing so, we always remain true to our philosophy and guiding principles in order to fulfill the justified wishes and expectations of our guests. And in this commitment we naturally also involve our selected local partners in the destinations of the world.
---
The heart of the company ....
However, the best business model is not sustainable if it is not supported by qualified employees in particular.
What began 25 years ago as a "one-woman business", today employs a total of 6 employees in the various areas of the company and additionally, if necessary, some "freelancers" in special areas, where very special, experienced skills are required, e.g. in alpine mountain hiking.
And these employees are the heart of the company. A well-founded professional training in tourism, an understanding of tourism processes, a thirst for knowledge and the will to constantly improve their professional skills are the foundation, accompanied by passion and enthusiasm for the world in general, and the travel wishes and needs of our guests in particular. This is what distinguishes our travel specialists. Listening to our guests and finding out which details are especially important for their dream vacation. And this is just one detail of our work....
---
We say thank you.... for 25 years of loyalty!
We would also like to say thank you...
- to all guests who remain loyal to us even in these times!
- all tourist partners in the destinations!
- all organizers, agencies, airlines, co-operations,....!
Without you P.T.A. TOURS would not have become what it is today.
In the future we will continue to stand for extraordinary travels with all our expertise, joy and enthusiasm and we are looking forward to making your travel dreams come true together! Becasse your travel wishes are our motivation!
---
Your message to us ... Contact
---
And that's us...!
Andrea Baumeister
Travel Agent
Boss, owner and driving force! Power woman and preferably always on tour herself! With great social and social commitment active for women, with women (Zonta). She has a proven expertise in the group travel business and an impressive local knowledge of tourism. Always wants the best... for our guests! And this is probably the guarantor for happy travelers and great tours. Quite a few guests know about Andrea's recommendations and trust them completely. With her, individual trips are almost filigree arranged compositions of touristic components, always with an eye for what is feasible and reasonable, completely in the sense of the guests' wishes. Who would like to realize thus once its completely own dream journey, is with it in the very best hands! "Each component of a trip must fit the wishes of the guest." andrea.baumeister@ptatours.de
Nina Schmidt
Travel Agent
Full-blooded vacation consultant, travel junkie, vacation-fairy. Approachable for her guests at any time. Always good-humored sunshine with an infectious smile. Her vacation advice is bubbling over with good humor and joy at being wholeheartedly involved in every vacation idea. Clients love her for this and feel inspired and very well advised. Her tourism qualifications have taken her to many (dream) vacation destinations around the world. Her great love is, how could it be otherwise, the sunshine! Being on the road, where the sky is blue, the sea is turquoise and the sun is shining. And preferably away from the mainstream, where nature is still nature, and people are still people. Your thing? Then you are well advised with her! "Very important to me is to understand what wishes and expectations the guest has. This is how completely individual trips are created." nina.schmidt@ptatours.de
Susanne Jasper
Travel agent
Cruise specialist, group travel maker, tour creator. No matter if 5, 50 or even 500 participants, with her demonstrably every tour succeeds! Keeps track at all times, a true organizational genius! Her trick? Having a solution today for things that could happen tomorrow. She takes care of small and large groups. Whether it's a family tour by bike, a class trip for the next generation, business incentives for top performers or international events for organized hikers. Where people want to travel together to their destination, Susanne is in her element! From the first thought to the finished trip, she is already months in advance with great stamina with planning and organization "on tour". She competently takes care of every seemingly unimportant detail. That's it! "It's the details that make the result. The more meticulous, the more perfect...!" susanne.jasper@ptatours.de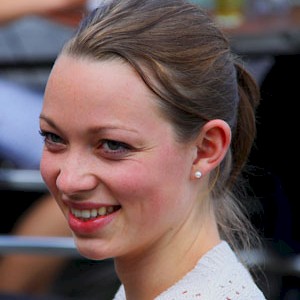 Anna-Sophia Baumeister
Travel Agent
In addition to her studies, Anna provides valuable support and assistance as a guide on our trips. anna.baumeister@ptatours.de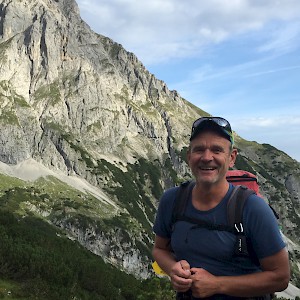 Frank
Mountain hiking guide
His passion are the mountains. Our first choice for many years, Frank leads our hut tours in the mountains. info@ptatours.de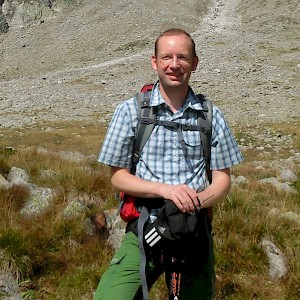 Christian
Mountain hiking guide
Christian, well-versed and experienced, has been guiding for many years in the DAV and now also our tours worldwide! A warm welcome! info@ptatours.de
Thomas Baumeister
Marketing / back office
Responsible for the office running in the background, creative head of our marketing appearances and presences at various events. thomas.baumeister@ptatours.de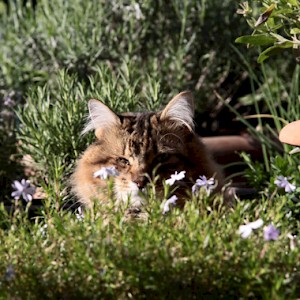 Rufus
The "big" Greek
Rufus is a native Greek and also knows something about travelling. His passion is "chicken in sauce". info@ptatours.de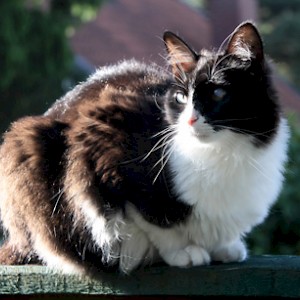 Mimos
The "little" brother
His brother Mimos accompanied him on the way from Hellas to Viersen. He loves the sun and endless caresses. info@ptatours.de